---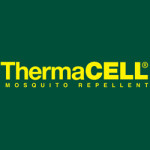 ThermaCELL® Mosquito Repellent Lanterns and Appliances are powered by a single butane cartridge. Butane provides the cordless, portable heat that activates the patented devices.
The heat generated by the butane cartridge is directed to a metal grill that is part of the design of the Lantern or Appliance. A small mat, saturated with repellent, sits on top of the metal grill. Heat vaporizes the repellent, allowing it to rise into the air.
The repellent is allethrin, a copy of a repellent that naturally occurs in chrysanthemum flowers. It repels up to 98 percent of mosquitoes, black flies, and no-see-ums, and will not harm humans or pets.
Within minutes after turning on the Lantern or Appliance, the repellent creates a 15 by 15-foot (225 square-foot) mosquito-free zone, the size of an average deck, patio, or campsite. All ThermaCELL Mosquito Repellent products use the same refills, which contain both repellent mats and butane cartridges.
The Mosquito Repellent Appliance is convenient to carry. Or clip one to your belt or backpack using the optional Appliance Holster with Clip, to make this a clip on repellent. Other accessories include an LED clip on light.
Repels up to 98% of mosquitoes
Also effective against black flies, no-see-ums and other flying insects
Creates a 15 x 15-foot zone of bug-free comfort
Safe to use: does not contain DEET and has no open flame
The Schawbel Corporation
ThermaCELL Brand
26 Crosby Drive
Bedford, MA 01730