Fly Fishing For Bass
Fly fishing is usually used for fishing trout. There is a big difference between trout and bass. Trout is a gentle and refined fish while bass is a predator. Because of this, most anglers think that you cannot fish for bass the same way you fish for trout.
Another reason most people don't try fly fishing for bass is that they claim they don't have the right equipment such as a big boat with a powerful motor. In addition, some think that fly fishing is too technical and might lead to injury if not done well. Finally, since people don't usually fly fish for bass, you hardly ever read aboutfly fishing for bass in fishing magazines, so there is not as much advice available to help those who are interested in fly fishing to catch bass.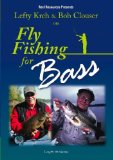 However, fly fishing for bass can be just as much fun as any other kind of fishing. Those who have tried it find it an exciting alternative method for catching bass. You don't need a new set of fishing gear for fly fishing bass. The only thing you need in addition to your rod is the fly.
In order to successfully fly fish for bass, you need to first learn the techniques involved. You must learn how to cast the fly. You can arrange for a few tutorials from a successful fly fisherman. You will need to practice casting on your own after going through the tutorials.
You don't necessarily have to use very heavy flies in the beginning. It is said that if you want a big bass, you must have a big fly, but that is not always true. There are times you get big bass with smaller flies. Another way you can succeed at bass fly fishing is to use flies that don't sink easily. The aim of fly fishing is to get the fish on the surface of the water or just below the surface film.
The best time for fly fishing for bass is when the water becomes darker after just after the sun has gone down. At that time it becomes very difficult for those using the normal method to see. But it is at that time that surface biting for bass is highest.
This post was first published on "The Fishin' Guy". Republished with permission. http://thefishinguy.com/
---