Adventure
Flightsee Hawaii
---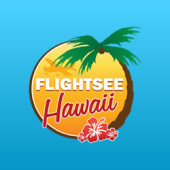 Flightsee Hawaii is a family owned and operated small airplane tour company located on the beautiful island of Oahu. We operate out of the Honolulu International Airport off of Lagoon Drive.
Air tours are one of the most popular activities for visitors of Oahu, and for good reason! The majestic mountains and long sandy beaches as viewed from the air offer unique and unforgettable sights. You will discover off-shore islands and the expanse of colorful coral reefs that can only be seen by air!
Many visitors fly with us first to plan the rest of their vacation! They discover breathtaking views of the best snorkel and surf locations; such as Hanauma Bay and North Shore, and enjoy awe-inspiring Diamond Head from above, the Ko'olau and Wai'anae mountain ranges, and historic Pearl Harbor.
Our air tours are perfect for couples, as a honeymoon or anniversary activity, shore excursion, or for small families. We keep things private, meaning you will not share the flight with someone you do not know. If you choose to take advantage of our round trip transportation, we pick up and drop off at Waikiki hotels, as well as the cruise ship piers.
Our goal is to offer fun, engaging, and personal service while sharing the remarkable beauty and aloha spirit of Hawaii!
Bring your camera and create memories that will last a lifetime!
For the best availability, book in advance!
Our Pilot Gene
Gene has spent his life in and around aircrafts of all shapes and sizes. With his father being the lead mechanic for a major airline, he's had opportunities to truly experience airplanes inside and out. From Cessna 152′s to Boing 777′s, Gene learned early on the importance maintenance plays in safe flying. He spent many years along side his dad learning aircraft systems and developing sensory skills.
Gene began his flight training and professional career in the great Pacific Northwest flying through and around the Olympic and Cascade mountain ranges. He was the Pilot in Command for beautiful scenic flights to and around the San Juan Islands and Puget Sound waterways out of the Bremerton International Airport. He also has cross country experience flying up and down the west coast, back and forth from Seattle, Washington to San Francisco, California.
Our plane
Our plane is a Cessna 182 Skylane, an immaculately maintained plane with low airtime. The plane accommodates the Pilot and up to 3 passengers with each having their own window, a comfortable seat, and a two-way headset to communicate. For anyone who hasn't flown in a small airplane, you should expect things to be a little cozier than a 747. This means the flight will be intimate; you'll have a private view and a more enjoyable experience.
The power plant of this aircraft is a Continental O-470-R. It is an opposed six cylinder and produces 230 hp at 2500 RPM's. It is considered a high performance airplane.
---