Hunting
Captain Peacock
---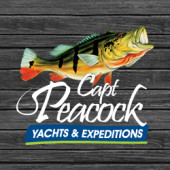 Fish the Rio Negro River in Brazil Amazon and experience World Record Peacock Bass Fishing while enjoying the finest in food, accommodations, service and equipment!
Let CP take you into remote areas of the Amazon Rainforest which have never had a road and never been timbered for a Peacock Bass fishing experience of a lifetime. Spend your days fishing from our NEW American made 175 Tracker bass boats, returning each evening to our 125' luxury yacht which will provide you the comforts of home and the services of an upscale hotel. Did I mention that in February of 2010, Bill Gassmann fishing with Captain Peacock caught a 28 lb monster Peacock that broke the long standing IGFA All Tackle World Record?
10 Exclusive Reasons to join us:
The mobility of our yacht allows you to fish more than 3 tributaries with your guides on our new Bass Tracker Boats while spending the nights in comfort, safety, and luxury on our 125 yacht.
Fishing from our 2013 American made Bass Tracker fishing boats, fully equipped with long range radios, electrical motors, and fish finders.
First Class services provided by our Executive Chef and English speaking Yacht Manager along with 11 highly qualified crewmembers.
11 Pro Guides who have guided anglers to World Record Peacocks and can communicate in English after 14 years of experience guiding Americans.
Complimentary custom TFO bait casting and spinning rods plus Shimano Curado 200 G-7 and 300 EJ baitr
Complimentary red and white South American wine selections as well as Premium Beers, Liquors, Beverages, Cocktails, and Water.
Private charter flights in the world's best aircraft available for such operation: Bombardier ATR 42 – Multi Engline Turbo Prop Aircraft with 44 seats.
Two nights in deluxe hotel rooms at the best upscale hotel in Manaus, Brazil – The Radisson.
Personalized services from our English speaking hosts during your entire stay in Brazil.
Amazing extra ecotour activities while cruising in the Rio Negro and its tributaries as well as in Manaus.
---