Fishing
Big Sand Lake Lodge: Fishing Manitoba
---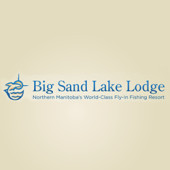 Fishing Manitoba! Big Sand is located 525 miles north of Winnipeg, Manitoba. The lake is 70 miles long with over 60,000 acres of pristine waters, containing the most sought-after trophy fish in North America. Big Sand Lake commonly yields some of the biggest fish in Manitoba including 20-30 lb. plus Northern Pike, 40 lb. plus Lake Trout, 4-6 lb. average Walleye and Arctic Grayling that are found throughout the many rivers and streams flowing in and out of Big Sand Lake. Take a look at our Manitoba Master Anglers to see for yourself. Contact Big Sand today for the trip of a lifetime and some of the best fishing in Manitoba.
---
Main Lodge
Our facility at Big Sand is the only lodge on the lake. There are no roads leading to Big Sand, so the only way to get here is to fly. All guests arrive at Big Sand via twin turbo prop passenger aircraft, landing at our private airstrip. Situated high atop an ancient glacial esker, the main lodge was built with the guests' needs foremost in mind. The lodge features hundreds of square feet of glass providing the eye with a sweeping view of nature's northern waters and thick patterns of birch and pine that serves as a background while dining or relaxing. The lodge is further complimented with a wet bar, entertainment room, and a tackle shop which is fully equipped with the specific lures you'll need to land our monster fish. This is truly some of the best fishing in Manitoba.
Located on the upper level of the lodge we developed a separate conference room for private meetings. Our executive conference room is fully furnished with audio/visual equipment, board tables, and chairs. Everything is provided to conduct a productive sales meeting in an environment that lends itself to the outside beauty awaiting you just a few feet away. Call for details on how we can turn your business meeting into a business adventure.
Big Sand Lake Lodge: Fishing Manitoba
PO Box 155 Stn. L
991 St. James St.
Winnipeg, MB R3H 0Z5
Canada
Phone:
1-204-774-6666
Toll-Free Number:
1-800-348-5824 (USA Only)
Fax Number:
1-204-774-5500
Website:
www.bigsandlakelodge.com
---