Fishing
Blackmur's Athabasca Fishing Lodges
---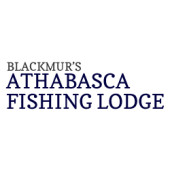 Few Canada fishing lodges in the Canadian north combine such a variety of freshwater trophy fly-in fishing with all the comforts of home. Located near the 60th parallel in northwest Saskatchewan, Lake Athabasca is the largest lake in the province and is recognized as one of the "Big Fish" waters of the world. Whether you're after trophy Lake Trout, Arctic Grayling, lunker Northern Pike, Whitefish, or Walleye, you'll find them all here. Best of all, you'll feel you have the great outdoors all to yourself.
Guests at Athabasca Fishing Lodges enjoy a caliber of fishing that is second to none. The expectations of the most discriminating angler are met every day with challenges and experiences that you'll remember for years to come.
Northern Pike over 20 lbs. are common. The lodge record and provincial record is 55 inches. Our guests report catching more pike than in past years, with many 50 inches and higher. Best time: Pike fishing remains outstanding throughout the season. Check out the execptional pike action on our Photo Gallery and videos.
Lake Trout always provide a challenge. In these cold waters, they grow to enormous sizes, with 30 pounders and even 50 pounders! A new provincial record measuring 51 inches in length and with a 36-inch girth was calculated to be 82-83 pounds. Best time: June and July, the last week of August, and first 2 weeks of September. See the huge lakers on our photo gallery and videos.
Arctic Grayling, the "sailfish of the north" offer a lively diversion from the "tackle busting" tactics of the Pike and Lake Trout. Try catching Grayling on ultra-light spinning gear or a fly rod. Lodge record is a 22-inch Grayling. Best time: Mid-June to the end of the season.
Walleye are favorites with most guests, and are abundant in the river outlets and right in front of the lodges. Walleye average about 2-5 pounds, and our guests report catching walleye weighing up to 7.5 pounds. Best time: June and July, and first 3 weeks of August.
Flyouts and Side Trips
Experience a day or more of remote fly-in fishing at any of the several lakes and rivers near the lodge. Our float plane will take you to areas where you'll find the thrill of hooking fish awaiting their first glance of a "Five of Diamonds".
Blackmur's Athabasca Fishing Lodges
#13 – 52112 Range Road 222, Sherwood Park, AB T8C 1H6 Canada
---