Hunting
Blixt & Co.: Pheasant & Partridge
---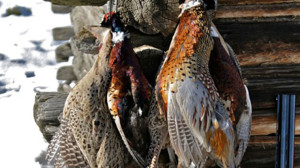 Blixt & Co. offers premier traditional driven pheasant and partridge shooting in the United States of America. It is our goal is to bring a long-held English tradition, to the majestic American West.
Since 2008, husband and wife team and sporting enthusiasts, Jennifer and Lars Mangnusson founders of Blixt & Company, have been introducing Driven Shooting in America. The base of their operation is located in Teton Valley, Idaho, less than a one hour drive from Jackson Hole, Wyoming.
The couple, Lars from a small village in southern Sweden and Jen a native of Jackson Hole, started their dream to bring an unfamiliar sport to the place that they call home. Over the last few years they have engaged the local communities in their journey, in order to bring Driven Shooting to the American West.
"On a days shooting we have over 40 people on staff." says Lars. "For us to be able to produce our shooting experience, we need so many people and local businesses in order to make everything work. From college students at BYU Idaho, local farmers, grocery stores, agricultural suppliers, the Team at Driggs airport, neighbors and friends; without all these resources in our valley we would not be able to make this dream of ours come true".
As Blixt & Company continues to grow, the focus is always new, innovative solutions and ideas to enrich the customer experience, particularly in areas and concepts such as farm to table. Working with the local farmers, artists and the rich agricultural heritage of Teton Valley will always be in the backbone of the company. Artists, musicians, wine makers, artisan food producers are all a part of the land, infusing it with soul, heritage, character and imagination. Blixt & Company also see many benefits to cyclical thinking for all aspect of the of the estates, and will always make sure to thrive for a sustainable idea, products and most of all a great shooting experience.
At the heart of Blixt & Co is Driven Shooting.
Driven Shooting is one of the great British traditions. For many years the only place you could find a driven pheasant and partridge shoot was in England and Europe. Until recently, this traditional sport has been very limited in the United States. The desire and interest for driven pheasant and partridge shooting has gradually grown as more people have been exposed to Driven Shooting. The tradition and mystery of this age-old heritage is fascinating to explore and it is an experience that will remain for a lifetime. Many shooters have taken the sport to heart, but only a select few have created shooting estates of their own in North America. Blixt & Co is proud to be a leader in the effort to prove that it is possible to create an authentic Driven Shooting Estate with craft, expertise and standard of excellence synonymous with some of the most magnificent shooting estates in the world.
The interest for driven shooting is growing and the opportunity to shoot "the European way" in North America is still scarce. We believe that the American West can become the center for driven pheasant and partridge shooting, much like Georgia is for the tradition of quail shooting. Imagine the combination of driven shooting, with the extraordinary access to Blue Ribbon fishing in the majestic landscape of Teton Valley! Blixt & Co. has been instrumental in creating an unparalleled opportunity for the avid sportsman to realize this dream.
There are few times in ones life that you can watch the start of a classic tradition. When we began this journey to bring Driven Shooting to America, we faced odds that should have daunted us, changed our mind, or lead us to believe all the voices who told us that it wasn't possible. But they were wrong. As we reflect on our pasts seasons and look forward to what is ahead, we realize that the character of our company continues to grow; enriched by the tales told, memories made, and days shared in the field. The patina of Blixt & Co. belongs to each group that leaves their unique mark. We have proven over the past 4 years that Driven Shooting in America is not only possible, but that our dream is coming true. Our hard work has proven its self and our vision is starting to be shared.
Visit our Estate Pages, Beckhurst Estate and Twin Peaks Estate to learn more about booking your trip to experience Driven Shooting in America.
Blixt & Co.: Pheasant & Partridge
PO Box 10347
Jackson, Wyoming 83002
---