Hunting
BC Trophy Mountain Outfitters
---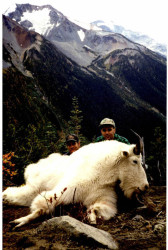 Hunters can expect high success rates and good trophy quality with wilderness hunts from BC Trophy Mountain Outfitters' permanent alpine based camps, spike-based camps, and lodge. We're solely Canadian-owned and all our licensed guides know our trails, animal habits, and wildlife like the back of their hand.
Within our exclusive 2,000 square mile (5,000 square kilometre) territory located in southwestern British Columbia, we hunt 13 primary species including: California bighorn sheep (a subspecies of Rocky Mountain sheep); Canadian and Rocky Mountain goat; grizzly bear, black, colour phase, and cinnamon black bear; Canadian moose (not Shiras moose or Yukon moose); cougar, mountain lion, and puma; mule, whitetail, and blacktail deer; lynx; bobcat; timber wolf; and coyote.
Canadian Owned Outfitter
BC Trophy Mountain Outfitters is a Canadian owned and a year-round guide outfitting company specializing in fair chase hunts for 13 species of Canadian world record big game. For over 18 years, we've been catering to outdoor enthusiasts seeking multiple species combination hunts in our exclusive guide territory. Despite our long hunting season, we only utilize prime times for the most effective results.
This guide area has had trophy game management practices since 1880 making it the oldest outfitting territory in British Columbia, Canada, and one of the few areas continuing to provide consistent trophies for over 130 years. It's classic bighorn sheep and mule deer habitat area, with thousands of alpine basins which can be reached by horse. By managing our guide territory carefully, we provide you with a high quality wilderness hunting experience.
All-Inclusive Customized Hunting Trips
Our guided hunting trips are done by 4×4, horseback, foot, and snowmobile, depending on the species and time of year. To customize a guided hunting trip for you, we discuss in detail all the variables such as your past experience, species priorities, abilities, interests, horse experience, and preference for lodge versus camp-based trips. The extra effort done up front is our personalized service and contributes to your success.
BC Trophy Mountain Outfitters
---