Hunting
Anatolia Safaris: Bezoar Ibex Hunting in Turkey
---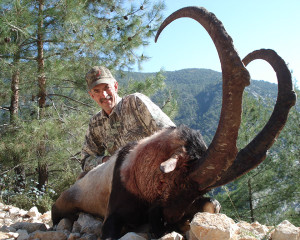 Anatolia Safari is one of the most distinguished hunting companies in Turkey. Long-standing experience in the field of tourism is a good reference for us as hosts. We would like to accompany you in Turkey on your hunting for wild boar, bezoar ibex, Anatolian sheep, Anatolian red deer, Anatolian reo deer, Anatolian chamois, Armenian sheep, Anatolian bear and wolf. Experienced guides, comfortable 4 wheels, untouched reserves, best hunting organization and well-equipped accommodation (hotels, pensions, village houses and fly camps) enable you a comfortable, reliable and unforgettable hunting trip. You can combine your hunting trip with various activities and discover the traces of the oldest civilizations of Anatolia, the natural beauties of Turkey, as well as the culture of Turkmen.
On account of its unique geographical location and structure, with its untouched and preserved nature and multitude of wild species, Turkey gains its position as one of the most important hunting destinations in the world. Besides its unique wild species and top quality trophies, its hospitality, good service, pleasant and fastidious holiday opportunities, it awakens more and more interest among hunters all around the world.
Surrounded by three seas and continents, Turkey extends with an area of 778 458 km2 over Europe and Asia. Thanks to its great extent, this beautiful country has the opportunity to possess a variety of climate zones, a rich flora and fauna and a multitude of wild species.
In its incomparably beautiful forests, comprising a third of the country, you can find nearly 80.000 fauna and 10.000 various kinds of flora. 3.000 of which is only existent in Turkey.
As a modern and environmentally friendly country, Turkey is the homeland for 38 national parks, 35 nature reserve areas, 17 nature parks and 101 nature spots with its 21.188.747 hectares of forest (comprising %27,2 of the country). Owing to the annual update of Wild Life Management System and the new game law 2004, Turkey could develop itself to a desired hunting destination with its hunting ground and wild species.
Under international agreement and contracts, like 1984 BERN, 1994 RAMSER, 1996 CITES, Turkey is among the few countries that can guarantee its nature treasures to the next generations.
Besides the above mentioned reasons there are other factors of importance: the modern and western life in the country, at a short distance to Europe, traditional hospitality of Anatolia and the few inhabited hunting regions.
The long lasting hunting prohibition of Anatolian Chamois, Anatolian Sheep, Anatolian Red Deer,Anatolian Roe Deer, and the peoples disinterest in hunting of wild boars restrict the top quality of trophies.The infrastructural construction of the airports, hotel and transport make Turkey an irresistible destination for foreign hunters.
Anatolia Safaris: Bezoar Ibex Hunting in Turkey
Çaybaşı Mah. 1359. Sk. No:20 D:7
ANTALYA / TURKEY
---