Fishing
Blue Mountain Lodge
---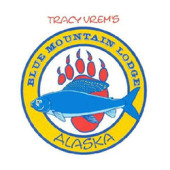 Blue Mountain Lodge is in the heart of the best Alaskan hunting and fishing the Alaska Peninsula has to offer. This is Alaska's best-kept secret, we do absolutely no advertising, all of our fishing trips are booked from referrals. Many of our clients have been returning to fish with us since the mid 1980′s. We cater to small groups from 2 to 6 fisherman. You will not get lost in the crowd at Blue Mountain Lodge.
We will fly out and stay with you, knowing the best rivers and lakes with the best fishing. Lunch is shore style, possibly cooking your own catch. After lunch you'll either continue there or go onto a new fishing hole. After a long afternoon you will fly back to Blue Mountain Lodge for a delicious family style dinner. We have a great variety of fish and locations to keep you moving and enjoying yourself everyday.
With the excellent fishing we will have ample opportunity to sight many bear, caribou and moose. A short flight to Katmai National Monument and Brooks Lodge to view the Brown Bears on the falls is on our agenda also.
It may rain, and a good rain suit is recommended to keep you warm and dry. The wind can get rather strong at times, but we rarely lose a day of fishing due to the weather. We have wheel and float equipped Cessna's and a Piper Super Cub to get you to the best fishing waters. Many of the streams that we visit are fished only by Blue Mountain Lodge guests.
Wing shooting is also available starting August 10th. Blue Mountain Lodge is located on an abandoned oil exploration road system. This road system is not connected to any village or highway. I have had pickup trucks flown in by large cargo airplanes. This set up makes for a great opportunity to hunt Willow Ptarmigan, a close relative of forest and prairie grouse. With a lodge limit of ten per day per hunter, this makes for a wonderful contrast to a day of fishing.
Blue Mountain Lodge
P.O. Box 670130
Chugiak, AK 99567
---