Hunting
Alaska Bush Adventures
---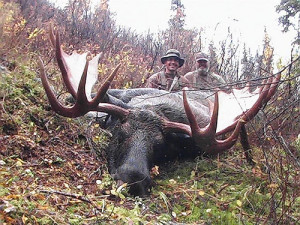 The Best of Alaska Hunting!
Alaska has a healthy Big game population of Moose, Caribou, Brown Bear, Black Bear, and Wolves, but due to its size has fewer big game animals per square mile than any other state. These animals are concentrated in pockets throughout various regions.
Alaska Bush Adventures offers over 30 years of guiding experience in the finest big game hunting area in North America. In the beautiful Alaska wilderness, this is the adventure of a lifetime.
We have an extensive list of satisfied clients who have hunted Brown Bear, Grizzly Bear, Moose and Caribou with us over the years. If you'll tell us what type of hunt you're interested in, we will put you in touch with someone who has done that hunt with us. Call me, Les Krank, at 480-657-3174 and I'll call you back as soon as possible. If you'd prefer send me an email and let me know what type of hunt you're interested in.
Hugh Les Krank, Master Guide
---